Chimps feel cold after boiler breaks at Wales Ape and Monkey Sanctuary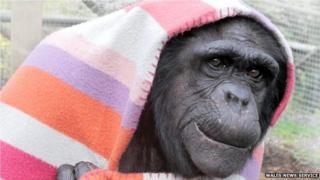 Chimps were left trying to get warm underneath blankets after a boiler at their reserve broke as temperatures plummeted.
Bosses at Wales Ape and Monkey Sanctuary in Abercrave near Swansea, feared the animals would get flu or pneumonia after the heaters broke down.
So they gave them blankets while they waited for the boiler to be repaired.
Graham Garen, who runs the centre, said of the Christmas Day break down: "Warmth is key for the animals."
He added: "They might get flu or pneumonia otherwise."
Mr Garen's wife Jan added: "They still eat lots of fruit but when it's cold we also feed them warm food like jacket potatoes.
"The chimps also like a hot cup of tea. They're like just like humans really."