Flood defences 'saved 75,000 homes' during Welsh storms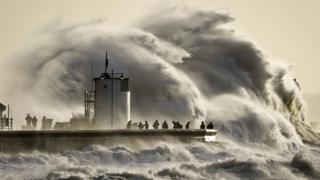 Flood defences saved 75,000 homes from flooding a year ago when storms and tidal surges battered coastal areas, Natural Resources Wales (NRW) says.
Over several days last January, roads and pavements were swept away, buildings collapsed and police had to keep people away from sea fronts.
Some 300 homes flooded while Aberystwyth and Borth in Ceredigion were among the places worst affected.
NRW said while defences were important, people should also have flood plans.
While the severity of the tidal surges was rare, Jeremy Parr, NRW's head of flood risk management, said more floods were likely in future because of changes in the weather brought on by climate change.
"In the recent past we haven't seen anything like the coastal impact we had last year," he said.
"It was so widespread - it affected all the coast of Wales. It was the combination of high tides and of the storm and winds and it could happen again."
He said the flooding battered defences, causing £10m worth of damage.
Homes and roads were also flooded in Pembrokeshire, Gwynedd and near the Usk Estuary in Newport.
But he said without them, the devastation could have been far worse.
He said NRW estimated that without the current flood defences, 75,000 homes would have flooded and there would have been £3bn worth of damage.
The flood defences have now mostly been repaired, Mr Parr said.
But he warned more needed to be done to ensure the safety of communities in the future.
"You can't stop floods from happening but you can be better prepared," he said.
"You can build defences and there's always work to be done to repair and replace them.
"But it's not just about that. You need to do things to get communities better prepared, like getting them to work together on flood plans. Individuals need to have plans for their homes if there's floods, like moving things.
"It's about getting people to work together on things like who will help elderly relatives."
Much of Aberystwyth promenade was damaged during the storms as the seaside town bore the brunt of the tidal swells.
People living and working along the seafront were evacuated, buildings collapsed and exams at Aberystwyth University were delayed.
Roads and railway lines around the country were also flooded, bringing days of disruption to commuters.