Wales NHS staff see pay boost after health union deal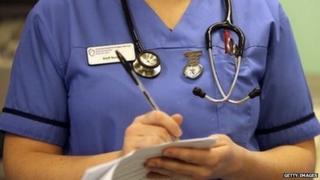 NHS staff in Wales have had the first part of a pay boost promised under a two-year deal struck with unions.
The agreement, which applies only to Wales, includes a lump-sum payment of £187 in January for 77,000 workers, excluding doctors and dentists.
A 1% increase will follow in April.
The Welsh government claimed more than 4,800 of the lowest-paid NHS staff would now get the living wage of £7.85 an hour, compared to the minimum wage of £6.50 an hour.
Workers will also get their growth-in-the job pay increments.
Strikes
Health Minister Mark Drakeford said the two-year deal, which was agreed in November, "demonstrates our ongoing commitment to staff working in the NHS in these challenging times".
"I am very proud that the NHS in Wales will, from today, pay their staff a living wage as part of that deal," he added.
NHS staff in England staged a four-hour strike in November in protest at a failure to award all staff a recommended 1% pay increase.
The Department of Health said it could only afford to give the pay rise to staff without automatic progression-in-the-job increases.
Further strikes are set to take place in England at the end of January and in February.