High winds see Holyhead and Pembroke ferries cancelled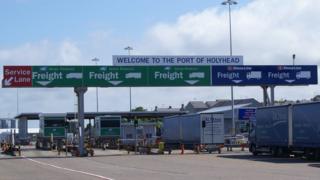 Some ferry services between Wales and the Republic of Ireland have been cancelled due to high winds.
Restrictions have also been put in place on the main A55 route to Anglesey across the Britannia Bridge, with a 30mph speed limit in force.
Irish Ferries says services between Holyhead and Dublin, and also between Pembroke Dock and Rosslare have been cancelled.
Stena Line ferry services to and from Wales not currently affected.
The Met Office says wind speeds could hit gale force in exposed parts of Wales, in particular on the north west coast.
The poor weather is expected to ease later on Wednesday evening, however, forecasters says parts of Wales could see some severe gales at times over the weekend.
---
Cancelled services:
Irish Ferries: 14:30 Dublin-Holyhead
Irish Ferries: 14:45 Pembroke-Rosslare
Irish Ferries: 17:15 Holyhead-Dublin
At present Stena Line services from Holyhead and Dublin, and Fishguard and Rosslare are operating normally.
---