Final day of North Wales Fire Service budget consultation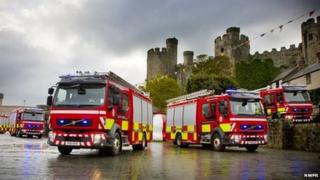 Friday is the final day for people to have their say on the future of the fire service in north Wales following warnings that 228 firefighters face losing their jobs.
North Wales Fire and Rescue Service Authority said jobs could go amid plans to freeze its budget until 2019/20.
This would mean the authority making £3.3m in cuts, about 10% of its budget.
Options being looked at include job cuts, closing seven retained fire stations and removing engines.
Following the Friday cut-off date for responses, the authority will consider its future and publish its final plan before the end of March.
The public consultation was launched as the authority has started planning its budget for the next five years.