Terror threat complex says deputy PM Nick Clegg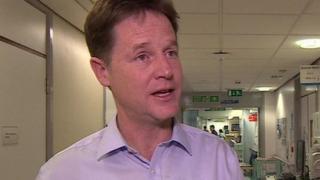 Greater security measures are being taken in the UK because we cannot live in a "false sense of safety", the deputy prime minister has said.
Nick Clegg said we cannot "seal ourselves off from the outside world" in the wake of the attack on the French magazine Charlie Hebdo.
The Liberal Democrat leader said threats are becoming "more complex".
Meanwhile, he added Wales should not be left behind as devolution goes forward in the UK.
He told BBC Radio Wales it was "so logical" for Wales to be part of devolution.
"I think we are pushing on an open door in terms of extra money for Wales. As devolution goes forward in other parts, of course Wales should not be left behind," he said.
Mr Clegg added his party was campaigning to win back the Montgomeryshire seat from the Conservative Party in what he thought would be the most "unpredictable, fragmented" elections he can remember.