North Wales Police share of council tax bill set to rise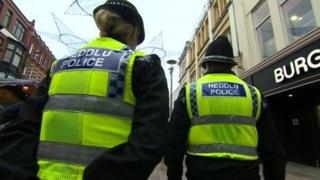 People living in north Wales could see an above-inflation increase in their council tax bill for policing.
Police and Crime Commissioner Winston Roddick said a proposed rise of 3.44% or £7.83 a year for a Band D property, "is not unreasonable".
He warned North Wales Police faced budget cuts of £15.5m in the next four years, including £4.4m this year.
Frontline services have been protected as far as possible, he said in a report for a police and crime panel meeting.
The proposed rise will be discussed at Monday's meeting.
North Wales Police is expected to lose 35 police officers and 19 police community support officers (PCSOs) as part of the budget cuts.
The Gwent and Dyfed-Powys forces' precept will be discussed at police and crime panel meetings on Friday.
South Wales Police police and crime commissioner's office have been asked to give details of its meeting.