Welsh Dairy farmers 'sceptical' of government action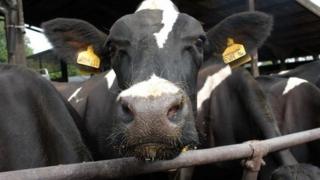 Dairy farmers in Wales are sceptical whether the UK government will do more to protect the industry from falls in milk prices, a lobby group has claimed.
The Commons Environment, Food and Rural Affairs Committee urged ministers to help farmers.
David Handley, chair of Farmers for Action, said they had not listened previously but the government said it was doing all it could.
First Minister Carwyn Jones said current milk prices were unsustainable.
Milk prices have come under pressure over the last year from a combination of rising supply and falling demand.
Farmers have also held protests, urging supermarkets to pay more for their milk.
'Low morale'
Mr Handley, who has a farm in Monmouthshire, said farmers need about 30p for each litre of milk they produce to cover their costs - but most were being paid about 20p a litre or less.
"That's bankruptcy," he said.
"We lost 60 producers in December in the UK. About 15 to 20 in Wales are going each month."
He said morale was low among dairy farmers and they did not want to be "bailed out" by the government.
"All we're asking for is an equal share of the money that's in the supply chain," he added.
First Minister Carwyn Jones said the drop in price was concerning.
"Production costs in dairy do vary but the reality is that the price that's on offer at the moment is not sufficient," he added.
But the Department for Environment, Food and Rural Affairs said it had given farmers "greater clout in the marketplace" through forming producer organisations, while a code of practice to give farmers a "fairer deal" now covered 85% of UK dairy production.
A spokeswoman said the long-term prospects for the industry were good.