Swansea City among top 30 highest-earning clubs in the world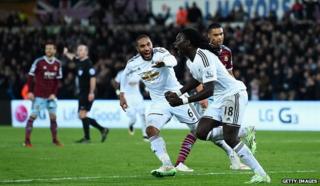 Swansea City have become the first Welsh club to make it into the top 30 highest-earning teams in the world.
The Premier League side is ranked 29th on the list compiled by Deloitte with revenue of £98.7m in 2013/14.
The list looks at how much money clubs make from match day sales, broadcasting deals and sponsorship.
Cardiff City made the top 40, along with every other club playing in the Premier League during the 2013/14 season.
Deliotte said the Swans' qualification for the UEFA Europa League last season, following their Football League Cup win in 2013, had delivered significant revenue growth.
That, combined with income from Premier League broadcast deals, saw the club's ranking rise 12 years after it was sold for just £1.