Police record 3% rise in crime, ONS figures show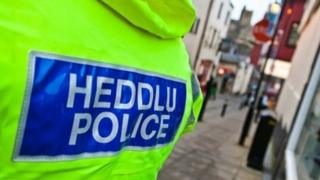 Overall crime has risen in Wales by 3%, official figures show.
A total of 177,732 crimes were recorded in the year to September 2014, according to the Office for National Statistics figures based on police records.
Violent crime is up by almost a fifth and sexual offences have risen by 30%, although the ONS said those rises relate to better recording.
Vehicle offences, burglaries and thefts were generally down in Wales.
South Wales Police saw the highest rise in recorded crime with an increase of 4%.
Gwent saw a rise of 3% and Dyfed-Powys a 1% rise, while North Wales remained the same, in line with the UK average.
Across Wales there were 38,000 violent attacks - up 18% - along with 14 murders.
There were also 4,019 sexual offences.
Last year, the national statistics watchdog said it could no longer approve figures recorded by the police because they were unreliable - prompting major revisions of how each force handles its figures.