'Rare' asteroid sighting expected over Wales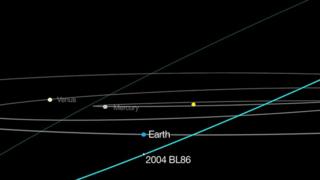 An asteroid the size of a cruise ship should be visible in the skies above Wales as it grazes the Earth in a once-in-200-years event.
The orbiting lump of rock will pass just 745,000 miles - 1.2 million km - from Earth. In astronomical terms it is a close shave.
Abergavenny astronomer Jonathan Powell said it would be a rare sighting.
He said it should be visible in Wales at 20:00 GMT looking south-east between Jupiter and the bright star Sirius.
He said the expected sighting of asteroid 2004 BL86 had caused "quite a stir" among local astronomers, many of whom are expected to congregate in the Welsh countryside, away from street lights, for the best view of it.
"We get an asteroid almost daily passing earth but this one is exciting because it is exceptionally large and because of the timing - we should get a good view of it in the night sky above Wales," said Mr Powell, secretary of the Abergavenny and District Astronomical Society.
"Most asteroids are so small they cannot be seen, even with amateur telescopes.
"But you this one is so large and so close - just powerful binoculars and telescopes will be able to spot it in Welsh skies from around 8pm onwards."
He said that the "cruise ship-sized" asteroid would pass as close as three times the distance from the earth to the moon.
He added that it would look like it was travelling very slowly in the opposite direction of everything else in the sky.
Nasa said the asteroid "will be the closest by any known space rock this large until asteroid 1999 AN10 flies past Earth in 2027".