Snowfall of up to 10cm forecast across Wales overnight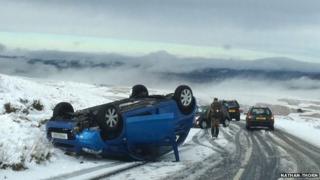 A Met Office yellow warning of up to 10cm of snow has been predicted to fall overnight on Wednesday, with warnings of possible travel disruption.
Showers of snow falling across parts of Scotland and Northern Ireland will extend across Wales by the evening, and continue overnight into Thursday.
The "be aware" warning said snow would be heavier on high ground.
Strong, gusty winds could lead to drifting and temporary blizzard conditions over high ground.