Dylan Seabridge, aged eight, died of scurvy, says coroner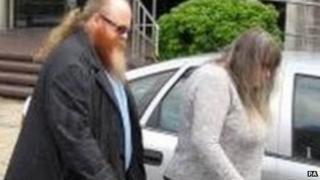 An eight-year-old Pembrokeshire boy died of scurvy, a coroner has ruled.
Dylan Mungo Seabridge, from Dolau, Eglwyswrw, died from the disease shortly after being taken to hospital on 6 December 2011.
The inquest in Milford Haven heard how he had been rushed to hospital after his father called 999 because Dylan had collapsed.
Pembrokeshire Coroner, Mark Layton, recorded an open conclusion at the inquest in Milford Haven.
The Crown Prosecution Service decided not to pursue its case of neglect against his parents Glynn, 47, and Julie, 46.
They were not present at the hearing.
The inquest was told when ambulance crews arrived Dylan was unconscious and was not breathing and had bruising to his ankle and knee along with swollen legs.
He went into cardiac arrest at hospital but doctors were unable to save him.
The inquest heard how neither of his parents had sought medical attention for Dylan because they believed he was merely suffering from growing pains, for which they gave him painkillers.
Home Office pathologist Dr Deryck Simon James, who carried out the post mortem examination, concluded that Dylan's death was due to a vitamin C deficiency, commonly known as scurvy.
Katie Hanson, representing the Seabridges, told the inquest that Professor Joris Dlanghe, a specialist from Belgium, questioned those findings.
She told the inquest that Professor Dlanghe was of the opinion that other deficiencies such as folic acid would have been present too, but were not.
"The parents don't accept that Dylan died of scurvy," she said.
Pembrokeshire Coroner, Mark Layton, told the inquest that Dylan's death "was subject to an in-depth criminal investigation" and therefore he had to come to an open conclusion.