Fly-grazing law only used by half of Welsh councils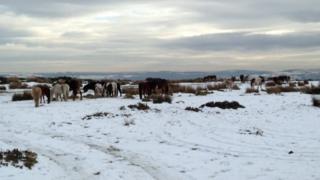 One year after a law was introduced to deal with stray or abandoned horses, half of Wales' councils are yet to use their new powers.
The Control of Horses (Wales) Act was introduced in January 2014, prompted by problems with large numbers of animals fly-grazing along the M4 corridor.
The Welsh government wanted to ensure powers were consistent.
Since then, 11 of the 22 councils have used the law to take 460 horses and ponies from land they should not be on.
Most have been seized by just six councils with Swansea leading the way with 233 animals removed.
Gelligaer Common has a particular problem with stray or abandoned horses and ponies with more than 200 currently on its 7,000 acres spread between the Taff and Rhymney Valleys.
The local commoners' association had hoped that the new act would help it address the problem, particularly after it was used to clear nearby Manmoel Common last summer.
Association chairman Ron Jones held talks with the local councils.
He said: "In fairness, they both offered to co-operate with us in all ways. But they couldn't put any financial input into it. So there's not a lot we can do."
Top six councils that have used the act
Swansea - 175 times, removing 233 animals
Cardiff - 73 times, removing 73 animals
Caerphilly - twice, removing 50 animals; 49 in a joint operation with Blaenau Gwent
Carmarthenshire - 18 times, removing 38 animals
Bridgend - five times, removing 34 animals
Vale of Glamorgan - seven times, removing 20 animals
Councils that have not
Anglesey, Ceredigion, Conwy, Denbighshire, Flintshire, Gwynedd, Monmouthshire, Newport, Pembrokeshire, Rhondda Cynon Taff and Torfaen.
Angela Burns, chairwoman of the National Assembly's all-party group on horse welfare, said she believes councils should be legally obliged to use the act.
"There should be funding put to this, there should be central control of the whole issue," she said.
The Welsh government says that placing a statutory duty on authorities would have made the legislation more burdensome and less likely to be used.
It has also provided match funding to enable councils to remove and dispose of abandoned or fly-grazed animals on a case-by-case basis.
Eye on Wales, BBC Radio Wales, 12:30 GMT, Sunday 1 February