Six Nations: WRU chairman calls for more money for TV rights from BBC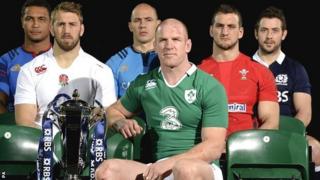 The chairman of the Welsh Rugby Union has challenged the BBC to keep the TV rights to the Six Nations.
Gareth Davies confirmed discussions have started over a new broadcast deal to replace the current BBC contract, which expires in 2017.
He said all six nations agree it would be "dangerous" to switch to pay-per-view and the championship should continue on free-to-air TV.
However, Mr Davies questioned how keen the BBC was to keep the competition.
Speaking on Post Cyntaf on Radio Cymru, Mr Davies said: "It's early days at the moment in terms of the discussions, the discussions have started.
"I was in the meeting last week and every country around the table, felt, in unison, that the championship should proceed on free-to-air.
"Having said that, everyone's asking questions of the rugby officials,
"I'd throw the question back at the BBC; how keen is it to keep the competition?"
He challenged the BBC to increase its offer to buy the rights to the championship.
"I'd expect an increase, and it would have to be a substantial increase."
The current deal for the TV rights for the Six Nations was signed by the BBC and the Six Nations Committee in November 2011.
A BBC spokeswoman said: "The BBC does not do a running commentary on rights related discussions or negotiations."