'Accidental death' verdict for Flintshire plane crash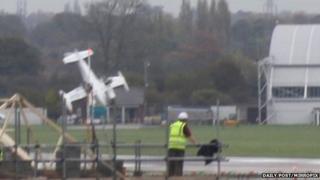 A verdict of accidental death has been recorded at the inquest into a Flintshire plane crash that killed two people.
Gary Vickers, 58, and Kaye Clarke, 42, died after their light aircraft nosedived as it came into land at Hawarden airport, Broughton, in November 2013.
An Air Accident investigation said the plane had run out of fuel.
Both Mr Vickers and Miss Clarke, both from Chester, died on impact.
Coroner John Gittins said it was unlikely the couple "would have known anything about it" adding "loss of consciousness was immediate".
The inquest also heard from the pilot's father, Gordon Vickers, who said his son always inspected the Cessna's fuel tanks before flying and was a "confident and competent pilot".
"On that type of plane, there's no warning if the tank is empty," he said.
Mr Vickers said he felt the fuel gauge on the light aircraft was showing an inaccurate reading.
The inquest was told the plane had 90 minutes' worth of fuel when it left Paris that day.
But the flight took 45 minutes longer than anticipated, possibly due to headwinds.
Despite the extra flying time, there were 30 litres of fuel in the reserve tank.
An Air Accident investigation has concluded the plane crashed because it ran out of fuel.
Mr Vickers and Ms Clarke both died from impact injuries as a result of the crash.