Charlie Hebdo sellers visited by police for 'public safety'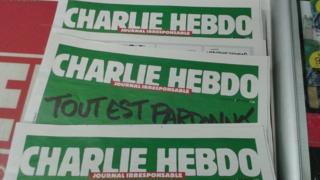 Several Welsh newsagents who sold Charlie Hebdo after gunmen attacked the satirical French newspaper were visited by police, it has been confirmed.
A Cardiff newsagent said South Wales Police officers wanted to check he had not received a backlash for selling it.
Another shop in the city, and one in Powys, have also received calls from officers.
Dyfed-Powys Police said it made the visits to "enhance public safety and to provide community reassurance".
The force, and its south Wales counterparts, did not ask for customer information.
Both city newsagents told BBC Wales they would have refused to hand such details, if asked.
The "survivors' edition" went on sale on 24 January after extremist brothers Said and Cherif Kouachi killed 12 people, including two police officers, in the attacks on Charlie Hebdo's Paris headquarters on 7 January.
Cardiff newsagent Mark Dudden said: "They said they wanted to keep an eye on me to see it was OK.
"They said if I had any problems to call 999."
Another Cardiff newsagent sold all its 18 pre-ordered copies, and the shop's Jackie Crocker said officers had visited before Charlie Hebdo was delivered.
"They just called in to see if there had been any repercussions," she said. "I think it was just a courtesy call. They just wanted to come and reassure us and said to call them if we experienced any repercussions."
It comes as Wiltshire Police apologised for collecting names of Charlie Hebdo buyers from a newsagent in its area, and has deleted the information.
In a statement, Dyfed-Powys Police said: "It was decided that it would be prudent to visit newsagents who may be distributing the Charlie Hebdo magazine to offer proportionate advice and reassurance due to the heightened publicity surrounding the publication.
"It was not the intention to gather any personal information of those who purchased the magazine and we can confirm no purchaser details were asked for or recorded."