Taylor McDonnell denies death by dangerous driving charges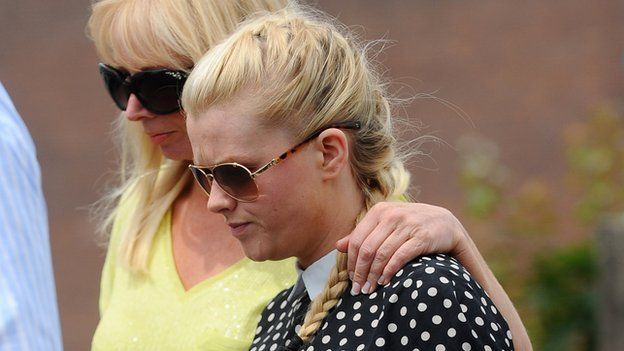 A 21-year-old woman who denies two death by dangerous driving charges after hitting an elderly couple said she could not have avoided the impact.
Taylor McDonnell, of Caerwent, Monmouthshire, struck Denis and Joyce Drew, both 86, as they were on stroll.
Newport Crown Court heard she had been talking on her phone via its hands free mode before the collision.
Asked if she thought it affected her driving, she said "no" and that it was like listening to a passenger or radio.
Grandparents Mr and Mrs Drew had been walking in the village of Ponthir, near Caerleon, when they were hit by Miss McDonnell's blue Toyota Aygo as they crossed the road on 13 November, 2013.
Miss McDonnell explained she had been on her way to her boyfriend's house when she decided to call her grandparents so she pulled over before dialling.
She told the court after she had been on the phone for several minutes, she decided to continue the conversation with her grandfather via the phone's hands free speaker and then pulled off.
She said: "I remember seeing on my driver side, I remember seeing colour, before I could get my mind to function, something hit my windscreen."
Miss McDonnell said she got out and saw a handbag, panicked and ran into the nearby pub to get help.
Asked if she could have done anything to avoid the impact, she said "no".
But prosecutors argue the hairdresser should have seen the couple crossing the road - and she was "grossly distracted" while chatting on her mobile.
As well being shown a beige coloured coat worn by Mrs Drew that night, which prompted tears from the defendant in the dock, the jury also heard evidence from PC Rhys Reynolds.
Under cross examination, he agreed there was no evidence Miss McDonnell was holding her phone, and that an oncoming car could have obstructed her view of the couple.
Former Avon and Somerset police sergeant David Loat, a witness for the defence, said he believed the crash was "unavoidable".
He said he believed Miss McDonnell's view of the couple had been obscured by a car travelling in the opposite direction on the other side of the road.