Domestic abuse support rises by 20% for women in Wales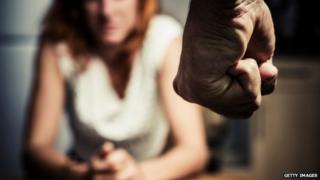 There was a 20% rise in the number of women being supported by local domestic abuse services in Wales on Valentine's Day year-on-year, a charity has said.
On February 14 last year, 1,548 women and children sought help from an abusive relationship, according to Welsh Women's Aid.
The charity added 50,000 women in Wales experience domestic abuse each year from a current or former partner.
It wants more action to prevent violence against women in Wales.
Eleri Butler, chief executive of Welsh Women's Aid, said: "For many women this year, Valentine's Day will be the same as any other day, living in fear of a violent and controlling partner or ex-partner.
"We need to challenge the attitudes and behaviours that perpetuate it so that future generations of women, children and young people grow up in safe, equal, violence-free relationships."
In 2014, the charity's All-Wales Domestic Abuse and Sexual Violence Helpline supported 27,972 callers.