Football fans want right to stand, Welsh Conservatives say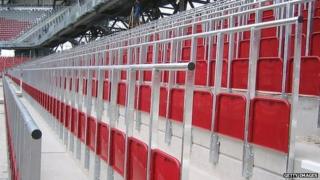 Football fans overwhelmingly back the right to stand to watch top games, the Welsh Conservatives have claimed.
All-seater stadiums have been compulsory in the Premier League and Championship since an inquiry into the 1989 Hillsborough disaster, which claimed the lives of 96 Liverpool fans.
96% of Welsh fans surveyed said they backed a trial of safe-standing areas.
Welsh Tory leader Andrew RT Davies said they had the right to be treated the same as fans of other sports.
'Atmosphere'
He said the law banning standing was "drafted in a different era, to address a different set of problems".
Supporters' trusts for the four main clubs in Wales - Swansea City, Cardiff City, Newport County and Wrexham - have backed the call for a rethink by the UK government.
Safe-standing areas, featuring retractable seats, have been introduced abroad, most notably in Germany.
Michael Brunskill of the Football Supporters' Federation said many fans "love" to stand, claiming it can "vastly improve the atmosphere and camaraderie" at games.
The Liberal Democrats have previously said they will make safe standing in football grounds a commitment in their 2015 general election manifesto.