Why has Llanfairpwll been rebranded Healthy-lung Village?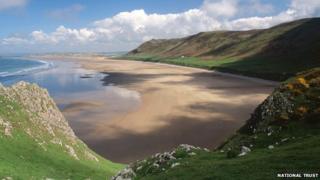 Fancy a visit to Healthy-lung Village or Silver Peak? Or a loaf of Good Morning Bread?
Believe it or not these phrases are among those which have been devised by thousands of Chinese people to describe well-known Welsh tourist sites and goods.
Healthy-lung Village was the phrase devised to describe Llanfairpwllgwyngyllgogerychwyrndrobwllllantysiliogogogoch - because you need good lung power to produce it - and Silver Peak depicts Snowdonia.
Meanwhile Good Morning Bread is actually a description of laver bread.
But why come up with phrases to describe places and things which have already got perfectly good names?
It is part of a campaign devised by VisitBritain to attempt to attract Chinese tourists to the UK.
It plays on the trend in China to give Mandarin names to favourite celebrities, places and foods, with the new names describing what people think of them.
So VisitBritain came up with 101 places - 16 in Wales - and released pictures of them on Chinese social media for the masses to examine.
Llanfairpwllgwyngyllgogerychwyrndrobwllllantysiliogogogoch, or Llanfairpwll, had the most responses of any in the UK with 29,695 people voting on its new name.
Manon Antoniazzi, chief executive of Visit Wales, said: "An important part of attracting somebody to a country is making them an affinity with it and the Chinese like giving places names that are meaningful."
She added: "Feeling an affinity with a country is an important factor when people are making their holiday choices and we need to develop this affinity with every market we are targeting. Wales' history, countryside, food and unique character all appeal to the Chinese market."
---
Mandarin names
Can you guess which Welsh tourist sites these phrases describe?
Grab a torch to visit the castle
Red shadow castle
Mountain River Walkway
Green Wave Bay
Perfect place with seaside view
(See below for answers)
---
It is not the first time Wales has singled out the Chinese market in a bid to improve the economy.
At the end of last year 11 Welsh companies visited Shanghai as part of an international hospitality event aimed at increasing sales in Asia.
The exhibition was a chance for the companies to display their products to buyers from China and neighbouring countries.
Meanwhile development plans for a luxury Welsh holiday village in Llandeilo aimed at Chinese tourists were announced in 2011.
Maxhard Ltd wanted to build a 100-bed hotel and 80 holiday homes with a swimming pool on a 22-acre (9 hectares) site near Llandeilo aimed at "a select international clientele".
The plans were put on hold two years later after the designs were criticised, but still feature heavily on the company's website and are understood to not be completely off the table.
And there is good reason Chinese tourists and businesses are being targeted.
The most recent inbound tourism figures show that in the first nine months of 2014, Britain welcomed 156,000 visits from China, which contributed £411 million to the UK's economy.
Chinese tourists currently spend an average of £2,508 per visit compared to the average spend of tourists from other countries of £640 per visit.
VisitBritain estimates that for every 22 extra Chinese visitors who visit Britain an extra job in tourism can be created.
The body's chief executive Sally Balcombe said: "Chinese visitors already stay longer in Britain than in our European competitor destinations and are high spenders.
"We want to ensure that we continue to compete effectively in this, the world's biggest outbound market and ensure that we deliver growth and jobs across the nations and regions of Britain."
So what next for the newly named places? Can we expect to see road signs to Sun Rise Beach (Rhossili Bay)?
Although Hay Festival shouldn't have any problems using their moniker Town of Literature, Abergavenny Food Festival might find their phrase Welsh Town Feast a bit harder to fit onto leaflets.
VisitBritain has given a few pointers on how the new names can be used, suggesting sites put notices on their websites flagging up the new names, or put up a sign or certificate announcing the description.
Anglesey's Principal Tourism and Marketing Officer, Iwan Huws, says any resulting visitors from Llanfairpwll welcomed whether they were drawn by the new name or not.
He said: "The Chinese names suggested are certainly very different from the traditional Welsh meaning of Llanfairpwll, and I hope that they will help attract many more Chinese visitors to Anglesey in the months and years to come.
"We'll make sure they receive a warm Welsh welcome when they arrive."
Answers: 1. Carreg Cennen Castle, 2. Castell Coch, 3. Brecon Beacons, 4. Freshwater West, 5. Pembrokeshire.