Director Terry Hands: 'Too many accountants run theatres'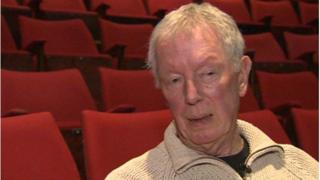 One of Wales' most influential directors has criticised the "accountants" and "businessmen" who run Welsh theatres.
Terry Hands is about to step down after 17 years in charge of Clwyd Theatr Cymru in Mold.
He has called for actors and producers to have a greater voice in deciding how public money is spent.
Hands also believes Wales needs more theatres producing more shows rather than relying on touring productions.
He said Arts Council policy in Wales had always been to favour touring because on paper it looks cheaper.
"But you can't run a theatre with accountants, you have to run it with people," he said.
"And by having touring, it's run by the managers. If you have a home-grown proper theatre, with a proper audience which builds, proper actors, companies that build."
FACT FILE: TERRY HANDS
Born Hampshire, 1941
Educated at Birmingham University and the Royal Academy of Dramatic Arts
Founding Director of the Liverpool Everyman Theatre
25 years at the Royal Shakespeare Company, as director, and artistic director from 1978-1991.
Director and chief executive of Clwyd Theatr Cymru in Mold since rescuing the theatre from closure in 1997.
Awarded CBE 2007
Three Olivier awards and three Tony nominations
He has directed opera in Paris and at the Royal Opera House
Hamlet (right) is his final production before his retirement
"The Welsh acting strength is enormous, the talent in the country is extraordinary," he said.
"But if you carry on managing it with accountants and people who don't actually know that much about theatre, then they cannot express themselves.
"So they all go to England, where every town has its own theatre - and not just a receiving house, a producing house."
Hands said Wales was missing out while audiences were a little like football fans.
"They don't want to go to Anfield and see a different group of people every week who they have no investment in," he said.
"You don't want touring. It's OK in between - as a snack - but the real shows should be home-grown."
However, he said Wales was lucky with funding, with the Welsh government supportive and conditions much better than England.
"But it could be more and I would love to see more permanent theatres building ensembles in Wales," he added.
The Arts Council of Wales said Terry Hands had achieved "remarkable success" and the quality of the work under his stewardship spoke for itself.
"However, for those audiences who are not able to travel to Mold, touring productions are often their only opportunity to experience professional theatre.
"As a national body distributing Welsh taxpayers' money, the Arts Council feels a particular responsibility to people across the whole of Wales.
"This is why we support two building-based theatre producers in addition to Clwyd Theatr Cymru - Sherman Cymru in Cardiff, and The Torch Theatre in Milford Haven - as well as a diverse range of high quality award-winning touring theatre."
One of those companies is National Theatre Wales (NTW).
John McGrath, its artistic director, said they were bringing theatre to wide audiences on tour.
"Theatr Clwyd like NTW has the support of the Arts Council Wales and Welsh government to put great theatre on stage," he said.
"Without that support we couldn't make it happen. It shows when you do make that kind of investment it's popular and accessible to a wide range of people."