Millennium Stadium is loudest venue of Six Nations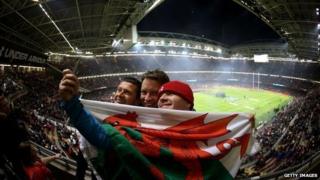 It is usually packed with passionate Welsh rugby fans so it might not be a surprise that the Millennium Stadium is the loudest of all Six Nations venues.
In a noise test, the Cardiff ground's average decibel level of 92.0dB was recorded as Wales lost to England.
The Aviva stadium in Dublin came second with 89.8dB, followed by Twickenham, Murrayfield, Rome and Paris.
The Millennium and Aviva stadiums were the only venues to break the 100dB mark at their loudest.
That is as loud as a pneumatic drill.
The test was carried out by Press Association Sport reporters who used equipment to track the decibel (dB) levels at the six fixtures so far in this year's RBS Six Nations Championship.
The top reading at the Millennium Stadium was 100dB and was beaten only by the roar at full-time of Ireland's win over France - when the Aviva crowd in Dublin hit 101.0dB.
Loudest Six Nations stadiums
1. Millennium Stadium (Wales v England) - average 92.0dB
2. Aviva Stadium (Ireland v France) - average 89.8dB
3. Twickenham (England v Italy) - average 88.4dB
4. Murrayfield (Scotland v Wales) - average - 88.0dB
5. Stadio Olimpico (Italy v Ireland) - average 86.1dB
6. Stade de France (France v Scotland) - average - 85.1dB