Hunt ban working well 10 years on says Alun Michael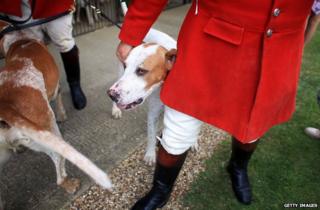 The ban on hunting with dogs is "working well" 10 years after it was introduced, according to Alun Michael.
The ex-Labour environment minister says he does not regret taking the ban through Parliament.
It came into force in England and Wales after years of political wrangling and clashes in the countryside.
It was seen as a victory for animal welfare activists but many farmers and countryside communities condemned it as bad for the rural economy.
Mr Michael, now the police and crime commissioner for South Wales Police, told the BBC: "I regretted the fact that there was no compromise, particularly on the supporters of hunting because, of course, the specific proposals that I put forward fell because of the lack of any give on either side of the argument.
"But the Hunting Act, let's remember, is not a ban on activity, it's a ban on cruelty to wild animals and, as supporters of the act always predicted, the activity goes on."
Mr Michael says he believes the law will not be repealed.