South Wales coroner merger to save money 'crazy'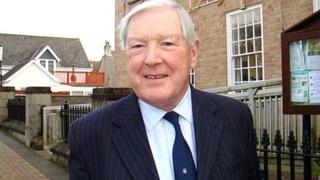 A planned merger of coroner areas being considered in south Wales to save money has been branded "crazy".
Currently, inquests are held by separate coroners in the Cardiff and Vale of Glamorgan area and in the Bridgend, valleys and Powys region.
Local authorities have said that having one senior coroner would save £70,000.
But ex-Pembrokeshire coroner Michael Howells warned it would make part of their job, to monitor problem hospitals, harder.
The senior coroner posts for both areas are currently vacant.
Rather than appoint two new people for the jobs, the six relevant local authorities - Cardiff, Vale of Glamorgan, Rhondda Cynon Taf, Bridgend, Merthyr Tydfil and Powys - are considering merging them.
The plans have already been given the go-ahead by the Vale of Glamorgan council's cabinet and are set to be discussed by other cabinets in the coming weeks.
'Warnings'
But Mr Howells, who held the senior post for 29 years, called the idea "crazy" and fears a merger would bring a number of problems.
He said the remit of a coroner was to hold an inquest if somebody died in hospital as the result of a botched operation.
"The coroner has the power to make warnings and recommendations about the hospital and then monitors them," he said.
"I really don't see how anyone will be able to do that for all the hospitals in this large merged area - it covers half of Wales. And there are quite a few hospitals that have had problems."
He also said the larger area would make it difficult for the coroner to work with local doctors they know and trust.
Previously, the chief coroner of England and Wales, Peter Thornton QC, said the number of coroners should be reduced.
At present, 60% of coroner areas have fewer than 2,000 reported deaths a year and he said most senior coroners should deal with between 3,000 and 3,500 deaths to make the service viable.