Legal highs 'getting stronger and more addictive'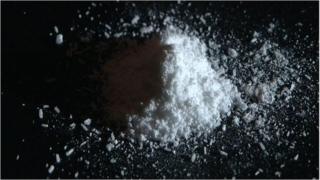 Psychoactive substances, known as legal highs, are getting stronger and sometimes more addictive than some illegal drugs, a BBC Wales investigation has found.
The synthetic versions, which mimic the likes of amphetamines, cannabis and heroin, are sold on the internet and on the high street.
Mephedrone and benzofuran have been banned as a result.
But as quickly as compounds are made illegal, new ones are created.
Josie Smith, from the Welsh drug testing agency Wedinos, said: "What we have found, certainly in the past year, is an increase in the strength of NPS [New psychoactive substances] drugs, not only the range of NPS that's on the market, but some of the substances.
"They have addiction potential far higher than some of the controlled substances."
Police forces across Wales have seen a 20-fold jump in the number of incidents where the term "legal high" was recorded - from 18 in 2012 to 371 in 2014.
Morriston in Swansea is one such area.
Councillor Andrea Lewis said: "New psychoactive substances have become the biggest cause of anti-social behaviour in this area.
"We had young people behaving erratically, literally running out into the street into oncoming traffic."
Ms Lewis said after working with the police and Trading Standards, she has not had any reports of anti-social behaviour linked to these substances in the past month.
Doctors are also concerned; although not everyone who takes psychoactive substances will experience problems, some do.
Julia Lewis, clinical director for adult and specialist mental health services for the Aneurin Bevan Health Board, said: "We are seeing increasing numbers of people going into mental health units with acute psychotic episodes after having taken some of these legal substances.
"We are hearing of quite young people having heart attacks; I treated one 17-year-old boy who'd had a small heart attack on one of these substances."
For information about organisations that can provide advice and support with drug issues, you can call the BBC Action Line on 08000 680 118.
Lines are open 24 hours and are free from most landlines. Some networks and mobile operators will charge for these calls.
BBC Radio Wales, Eye on Wales, Sunday 12:30 GMT.