Newspapers circulations in Wales fall again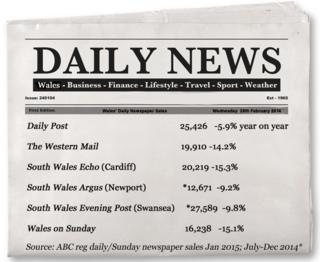 Average newspaper circulations in Wales have continued to fall, according to the latest industry figures.
However, publishers have seen significant increases in the numbers of people using their online news sites.
Figures compiled for auditors ABC show the Western Mail's circulation dropped below 20,000 for December and January.
The South Wales Evening Post remains the most popular printed paper with an average circulation of 27,589.
That figure for the second half of 2014 is a drop of 9.8% on the year.
The most recent figure for the Western Mail, for January 2015, shows it has a circulation of 19,910 - a fall of 14.2% on the same time last year.
It also sold fewer than 20,000 in December 2014 according to the monthly breakdown.
There has been rapid growth in the number of people using the publishers' online news sites.
Wales Online has doubled its audience in the past year, recording 4,025,111 monthly unique visitors during January 2015.
HOW IS YOUR LOCAL WEEKLY PAPER DOING?
CAN ONLINE FILL THE GAP?
NEWSPAPERS STILL HOPING TO MAKE HEADLINES