Pet businesses helping Wales bite back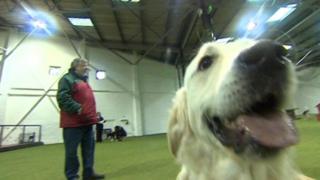 New business creation in Wales is the highest it has been for a decade, according to the most recent official figures.
Over 11,000 new firms were created in 2013 - the last year details are available for.
Another 8,000 went out of business in the same year.
Both measurements - so-called business birth and deaths - were below the UK average.
Of the businesses set-up in 2008 in Wales at the height of the economic meltdown, just over 42.5% survived five years.
This was slightly higher than the UK average, according to the Office for National Statistics (ONS).
But no region of the UK sees most of its firms set up in 2008 still trading in 2013.
It shows the difficulties companies face when they are created and as they try to grow.
Dogs are big business
About 23% of the UK population have a dog and there is an estimated 7.8 million of our four-legged friends.
Owners spend between £16,000 and £31,000 over a dog's lifetime depending on its size, according to the PDSA.
CASE STUDY: Action Petz, Cardiff
Shelley Redding from Cardiff set-up Action Petz seven months ago and already has 1,000 members.
Owners can take their dogs to walk and play at the 20,000 sq ft (1,858 sq m) indoor park in Tremorfa, which is on the site of a former steel warehouse.
The idea comes from the United States though this is the first of its kind in the UK.
She now employs seven people and Shelley says she has already had interest from people across the UK who want to franchise Action Petz to bring one to their area.
Security is a major part of the reason for the company getting started.
Shelley's dog was stolen while she walked it in an outdoor park.
She received start-up funding and also her own money and said there was mentoring help in south Wales for accounting and marketing if needed.
Shelley said: "I would like to keep growing the company. There are already people who want to set up similar centres so I'm looking for very quick growth."
As for advice for others she said: "Do your research, spend some time, don't rush into things, look into every angle and to people who give experiences in the field and who've been there and done it."