Where we get our news in Wales: Internet sees surge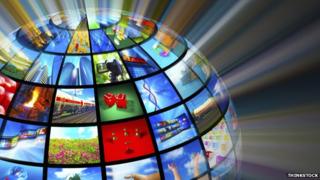 Almost a third of people in Wales mainly get their news from social media and the internet, according to a poll for BBC Wales.
The ICM survey found 30% of people said they mostly looked online for stories.
Television is the first choice for the majority of people, with 39% preferring to watch news programmes.
16% said they mainly got their news from newspapers, while 12% chose radio. The remaining 3% said they were not interested in the news.
Roy Gleenslade, media commentator for The Guardian, told BBC Wales the figures reflect the different way people are now accessing news.
He said: "Hundreds of thousands of people are consuming their news online.
"Although newspapers have relatively small circulations, they probably have a higher number of readers today than they did 10 years ago because of people going to their website."
ANALYSIS
The fact that almost a third of us choose the internet first for news reflects the huge growth in the ownership of smartphones and tablets, and the explosion in online news outlets catering to a hungry audience.
But deeper beneath the headline results of this poll is a trend that's forcing traditional, perhaps old-fashioned media companies to reassess their priorities for the future.
The majority of 18 to 34 year olds (58%) told the researchers that they mainly get their news from social media and the internet. The only age group who mostly choose TV (54%) are the over 65s.
Nobody is yet prepared to predict the death of television news, and the Welsh editors I've spoken to insist their papers are here to stay. But the traditional media powerhouses have already begun to put a greater emphasis on serving their digital audiences, while demand will continue to grow.
ICM surveyed 1,000 people between 19 and 26 February.