Insurance firm Admiral's pre-tax profits at £357m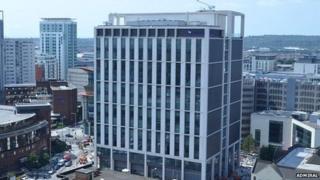 Welsh-based insurer Admiral has announced pre-tax profits of £357m for the year to December 2014.
Group turnover was £1.97bn compared with £2.03bn in 2013.
Chief executive Henry Engelhardt said: "For the first time since we went public, Admiral Group did not post a record profit, but we still made a lot of money."
About 7,000 staff will each receive £3,000 in the company's employee share scheme based on the full year results.
The firm has created 280 new jobs in Cardiff, Swansea and Newport this year.