Pregnancy drug Primodos inquiry meeting 'disappointment'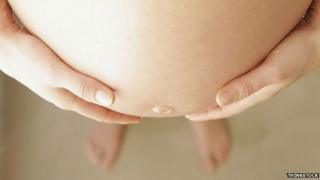 Campaigners who believe a hormonal pregnancy test damaged their unborn children say they are "disappointed" with the initial actions of an inquiry into their claims.
The UK government set up an independent panel to look at evidence Primodos may have caused defects and miscarriages in the 1960s and 70s.
A meeting between those affected and the panel chair has been called off.
That has led to upset but officials say the panel has to remain impartial.
The Association for Children Damaged by Hormone Pregnancy Tests (ACDHPT) had been told it would meet the panel next week to discuss its work.
But chairwoman Marie Lyon said she has now been told that meeting will not take place.
"That gives me cause for great concern," she told BBC Radio Wales programme Eye on Wales.
"You just feel in the depths of despair, being promised that this would be a thorough investigation, that there would be full involvement.
"I'm just so disappointed."
The Medicines and Healthcare Products Regulatory Agency (MHRA), which regulates medicines and medical devices in the UK, is overseeing the inquiry.
'Frustration'
It said it had been advised the planned meeting might compromise the review's impartiality.
The MHRA said Ms Lyon would be invited to all meetings of the expert group while the association was welcome to submit any evidence.
Aberconwy MP Guto Bebb has raised the issue of Primodos families in Parliament after being contacted by a constituent who is a member of the association.
He said he understands campaigners' concern, but does not believe the inquiry falls short of what was promised.
"The situation is one of typical frustration with the way in which government work but I would not jump to any conclusions as to the downgrading of what's been promised by ministers," he said.
Cardiff-based solicitor Dr Sarah-Jane Richards, who has acted for clients over Primodos, said she believed the inquiry could get answers for campaigners.
"It's then for the inquiry and the campaigners to decide how they are going to use that information and whether it might give them the evidence and support they need to bring their legal case," she said.
Legal action against Schering - the original manufacturer of Primodos - was halted in 1982 because of a lack of evidence.
Schering was subsequently taken over by Bayer which said that since then no new scientific knowledge had emerged to challenge its position that there was no link between the use of Primodos and birth defects.
Eye on Wales is on BBC Radio Wales on Sunday 8 March at 12:30 GMT.