Buses to carry police cuts warning in north Wales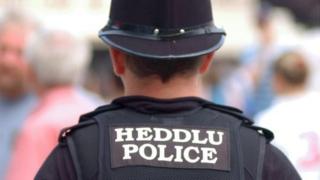 Buses in north Wales are to carry adverts warning cuts to the police budget could spell the end of neighbourhood policing.
North Wales Police Federation's Cuts Have Consequences campaign will see 38 buses in the force area carry messages opposing the cuts.
The force has lost 92 officers in four years, the federation said.
The UK government said police reform was working and crime had fallen by 15% in the north Wales force area.
The campaign's website warns: "Your safety is under threat. It sounds dramatic, but it is true."
It says officers are also at risk, adding: "Devastating cuts to policing budgets have jeopardised their safety and welfare as well as yours. It is simply not acceptable."
Changing crime
The federation say the force has lost £17.9m from its budget in the past five years, with a further £15.5m in cuts planned over the coming four years.
The website says some police work cannot be quantified by crime figures alone, citing public protection work such as managing high-risk offenders, protecting children from online crime and tackling other cyber crime and domestic violence work.
Federation chair Simon Newport said: "I am a police officer, but sometimes I feel more like a firefighter. My colleagues and I rush to a job, put out the fire, then rush to the next one.
"Neighbourhood teams have diminished. Where is the crime prevention? Where is the intelligence gathering? Community engagement? Gone."
North Wales Police and Crime Commissioner Winston Roddick said he was satisfied the force would be able to police the area effectively.
"I would point out that overall North Wales Police is doing a very good job in keeping crime down and ensuring that people feel secure in their homes and safe in public places," he said.
"The federation is right to highlight that crime trends are changing - however, modern slavery, cyber crime and child sexual exploitation have all been considered at length in the revision of my Police and Crime Plan."
Mr Roddick added: "There is clear evidence to show that the cuts have not reduced the effectiveness of North Wales Police in reducing crime or in keeping people safe."