Tributes to Merthyr Tydfil grandmother killed in A470 Brecon crash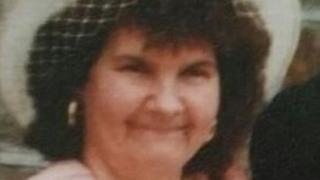 Tributes have been paid to a cancer survivor grandmother who died in a crash in Powys alongside three teenagers.
Margaret Elizabeth Challis, 66, from Merthyr Tydfil, died in the collision near Storey Arms, Brecon, late on Friday.
Alesha O'Connor, her boyfriend Rhodri Miller and Corey Price, all 17 and from Barry, also died.
Mrs Challis' sons said she had been returning from a night at the theatre.
She had been a passenger in a black Volkswagen Golf estate driven by a friend returning to Merthyr from Brecon.
Their car was in a collision with a green Volkswagen Golf travelling in the opposite direction on the A470 at about 22:15 GMT on Friday.
The teenagers' car is believed to have been travelling in convoy with other cars.
Three other people remain in hospital - one is in a critical but stable condition. The others are described as stable.
Seven teenage boys were arrested on suspicion of dangerous driving and have been released on bail.
Alan and Jason Webber, aged 44 and 41, said their mother - who had six children and more than 20 grandchildren - had been the head of their family and had lived in the same house for 26 years.
They said she had felt like she had "everything to live for" after being successfully treated for a brain tumour.
"She just went out for the night and didn't come home," said Jason Webber, who added some people might know his mother as Margaret Webber.
"Kids were her life. She didn't go out, didn't drink, didn't smoke, didn't do nothing."
He said his mother's house had been like something from the television series, the Waltons, with her cooking for 17 people every Sunday.
"If any of their friends came along, 'yeah I'll put another dinner up for her' - and she would put another dinner up and not think twice about it," Mr Webber said.
He added she had lost her brother and sister in the Aberfan pit disaster - and witnessed it from a near by bus stop.
Meanwhile, support is being given to pupils at Ysgol Bro Morgannwg, where Corey and Rhodri had both been pupils, and St David's College in Penylan, Cardiff, which Alesha attended.
On Sunday, Rhodri's parents described him as a bright, talented 17-year-old, while Alesha's family paid tribute to a "beautiful, intelligent and artistic" girl.
Corey's parents said they were "devastated" by the death of "their wonderful gentle and caring son, brother, uncle and grandson".
Cardiff City FC paid tribute to season ticket holder Rhodri and former academy player Corey who was with the club for eight years.