'Direct link' between self-harming and the internet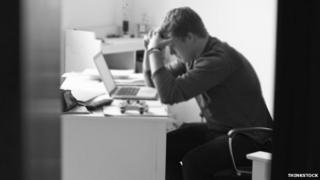 There is a direct link between young people who self-harm and their use of the internet, new research shows.
A study by Cardiff University has found that they not only use social media to share images of self-harm - some go further and use the images as part of their own self-harming behaviour.
The UK has one of the highest rates of self-harm in Europe.
It is estimated one in every 130 people have deliberately hurt themselves at some point.
"We found young people are going online to specifically to seek out certain pictures and images of injuries often to precisely prompt an episode of self-harm," said Dr Nina Jacob, who carried out the qualitative research.
"We found that the picture or image of self-harm suddenly becomes part of their ritual almost, so they seek out that picture to almost get a high or a trigger and then they will go off and self-harm."
'Frustration and distress'
Clare Lamb, a consultant child and adolescent psychiatrist covering north Wales, said it is more common in younger people.
"It is an important public health issue," she added.
"Some young people will be doing it to reduce feelings of frustration and distress. Some young people self-harm to punish themselves.
"It tends to be to be a behaviour that repeats itself because the young person hasn't come up with any other solution to managing their difficult thoughts or feelings."
The number of young people, aged between 10 and 19, seeking help for self-harm has increased.
In Wales, 1,542 young people went to hospital in 2013-14 compared to 1,134 between 2012 and 2013.
A special report on the issue is on Eye on Wales on BBC Radio Wales, Sunday at 12:30 GMT and will be available on iPlayer