Kidney deaths families renew calls for action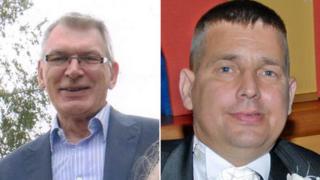 The families of two men who died after being given infected donor kidneys at a south Wales hospital say recommendations from a coroner need to be implemented.
Robert "Jim" Stuart, 67, and Darren Hughes, 42, were given kidneys infected with meningitis-causing worms in 2013.
Both died following the operations at Cardiff's University Hospital of Wales.
An inquest found in December that both men died from "unintended consequences" of the transplant surgery.
The Assistant Coroner Christopher Woolley also told the families that he would be making a series of recommendations to health boards and transplant services, as a result of the inquest.
Solicitors Irwin Mitchell, representing the families, say those recommendations in the coroner's report asks trusts to address several issues, including:
The need for more core data on forms about tests donors may have undergone
Ensuring microbiology reports on donors are passed to accepting transplant centres
The process for accepting donor organs taking place on computer systems rather than over the telephone
The decision to accept an organ should be a medical team decision - in this case it was taken by the consultant acting alone
Standard consent forms should be redesigned
Darren Hughes's father Ian said: "We are pleased that the coroner has taken the time to consider the factors that led up to Darren's death and as a family we hope that his recommendations are taken into consideration by the health board and the transplant services to make sure that this can never happen again.
Judith Stuart, the widow of Mr Stuart, said families and patients involved needed to be able to make considered and informed decisions about treatment.
"We want to highlight that every patient who is waiting for organs on the transplant list has the right to turn down an organ if they are concerned about the risks.
Cardiff and Vale University Health Board's medical director Dr Graham Shortland said the board fully supported the families' call.
"The recommendations from the independent investigation and the coroner's report have been carried out by the health board.
"We are continuing to do all we can to share the findings and learning from these events," he added.
The board had commissioned a report to see if lessons could be learned and after the inquests ended said it had improved its process when seeking consent from patients and their families to undergo transplants.