Murder suspect Sammy Almahri to be extradited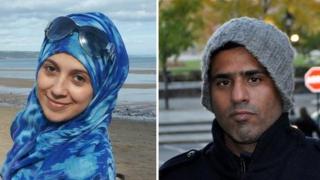 A man suspected of murdering a woman in a Cardiff hotel room on New Year's Eve will be extradited at the end of the month.
Sammy Almahri, 44, from New York, went on the run to Tanzania after allegedly murdering Nadine Aburas, 28.
The student's body was found at the Future Inn, Cardiff Bay, sparking an international manhunt.
Mr Almahri was eventually tracked down to a forest area near the city of Iringa in the East African country.
He was arrested and appeared in front of magistrates in Der es Salaam where an application was made to extradite him back to Britain.
Mr Almahri did not contest his extradition which is expected to take place within the next 10 days.
The businessman met Ms Aburas through online dating - and flew to the UK to spend New Year's Eve with her.
She had been in a three-year online romance with Mr Almahri.
Ms Aburas' mother, Andrea, 58, had called on Mr Almahri to hand himself in, saying: "You told us that you loved Nadine - if this is true then please help the police help you."