Budget 2015: Adding up what it means for Wales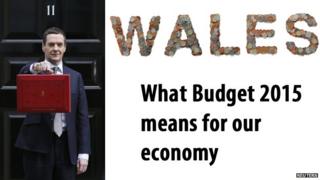 A budget for all the UK - north and south, rich and poor; that was Chancellor George Osborne's message.
But what does it all mean for Wales?
Workers will be able to earn more without paying tax, there will be less duty on beer and cider, help for first-time buyers and it will be easier for pensioners to access their savings.
But there have also been important steps made that could help the Welsh economy improve.
Here are some of the main points:
SEVERN CROSSING TOLLS
The Chancellor brought the prospect of good news for the thousands who use the Severn crossings every day.
The existence of tolls for crossing the two bridges, which are part of the UK's motorway network, has been controversial.
As has the level at which the tolls are set and the rate of annual increase - established when inflation was high.
For well over a decade there have been arguments that the tolls, paid by the 25m drivers who use the bridges every year, actually harm the Welsh economy and are a disincentive to investment.
The Chancellor has now announced they will be reduced: A little for cars but significantly for small vans, mini buses and HGV's
While other business leaders have welcomed the move, the Federation of Small Business in Wales said it was "disappointingly short" of the cut it wanted.
It believes if tolls were set to cover maintenance costs after 2018, the cost for a car should drop to £1.50.
TIDAL LAGOON
The Chancellor may have only made a very brief reference to the Swansea Bay Tidal Lagoon but supporters of the £1bn project will claim it is significant that he chose his Budget to do so.
Mr Osborne announced the UK Government will enter the first phase of talks on what is called a Contract for Difference.
These will decide whether the project is affordable and value for money for consumers.
Aside from debate about its environmental impact, if it went ahead it would inject many millions of pounds into Wales.
This is not just about renewable energy, it is about building a new industry for the UK.
For Wales, it could bring more than £120m into our total pot every year according to Cardiff Business School, and 18,000 full-time jobs.
CITY DEAL FOR CARDIFF
Mr Osborne said the positive effect of the "Northern Powerhouse" - money and powers for northern cities - had worked so that Yorkshire was creating more jobs than France.
He said talks would start towards setting up a City Deal for Cardiff to help the Welsh economy grow.
Council leader Phil Bale called it a "massive boost" and a "major step forward", as the city looks to continue to grow and needs the infrastructure to back it up.
A similar deal was agreed with Glasgow in August and it would mean specific powers and freedoms to help create jobs or invest in local projects.
The chancellor also announced Manchester can keep 100% of extra business rates it generates and said his door was open for other cities to follow suit.
In Wales, in the last few months a group called Great Western Cities has emerged along with Cardiff Capital Region and Swansea Bay City Region.
There is already a vision of improved transport system in and around the Welsh capital, including a £2bn Metro.
HELP WITH HOME BUYING
More than 45,000 first time buyers in Wales could benefit from a new Help to Buy ISA. For every £200 saved towards a deposit for a home, the UK Government will contribute £50, up to a cap of £3,000.
So if you manage to save £12,000, the government bonus will boost your total savings to £15,000.
FARMING
Farmers have been lobbying for help with their tax "making it easier to get through the bad times as well as the good."
They will be taxed on an average of their incomes over five years, not two, from April 2016.
This could help more than 3,000 farmers. The NFU in Wales said farmers were "increasingly facing a volatile marketplace and this will enable them to manage the impacts of this".
BROADBAND, FILM AND ENERGY HELP
The Broadband Connection Voucher Scheme, which allows small businesses and charities to apply for grants of up to £3,000 to cover the costs of installing faster and better broadband, will be extended by 12 months.
To date, Cardiff has issued 385 vouchers and Newport 64. The scheme is also set to start in Swansea next month.
The Welsh creative industries could be helped by the increase in film tax relief, a £4m fund for those working in video games and another £4m for training in animation and visual effects.
On top of that the big energy users have been offered help with their electricity bills.
These various schemes could help the Welsh economy grow.