Theresa May defends decision not to devolve policing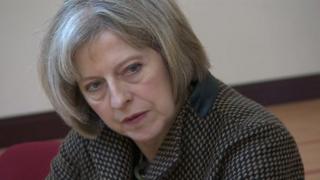 The devolution of policing to Wales is opposed by Home Secretary Theresa May because she believes the current system "already works".
On the campaign trail for the Conservatives in Gower, she said crime was falling.
The police had responded to budget cuts by the UK government "by transforming the way they work", she said.
The Welsh government has said it should handle policing policy - something recommended by the Silk commission.
However policing was left out of the UK government's blueprint for the next steps of devolution, published at the end of February.
"I'm very clear that we have a system that is working in relation to policing across England and Wales," Mrs May told BBC Wales.
Labour has said it would hand over responsibility for neighbourhood policing to Cardiff Bay, which would allow Welsh ministers to scrap Police and Crime Commissioners (PCCs).
But Mrs May defended the introduction of PCCs under the coalition government, saying they had brought "accountability" to the police.
Widely seen as a future contender for the Tory leadership, she also criticised the Labour Welsh government's record on health, saying outcomes were worse than in England.