David Hasselhoff and Hayley Roberts lift lid on romance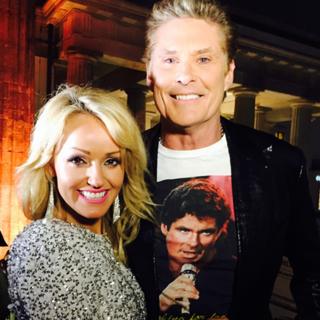 The romance between Baywatch star David Hasselhoff and his Welsh girlfriend has been a tabloid staple and is now the subject of a behind-the-scenes TV programme.
Hayley and The Hoff lifts the lid on former shop worker Hayley Roberts and the actor and singer, following them from Glynneath, Neath Port Talbot, to Los Angeles.
I am not exactly an avid watcher of reality TV or celebrity shows, and I would prefer to bump into a couple of chimpanzees in the jungle rather than Ant and Dec.
But this is genuinely warm and tries to get the sense of a couple thrown together from two different worlds and somehow making sense of it - him in the limelight, her content to be in his shadow.
The programme opens with a sense of the ridiculous. It is Hasselhoff's first visit to a Wales rugby match, where he dresses up as a Rastafarian and speaks with a ludicrous Jamaican accent.
This, his normally trusted disguise, fails in a sea of red shirts in Westgate Street and one fan immediately twigs and asks him politely for a photo.
He joins the party - welcome to Wales!
Rewind to 2011; the couple met in the foyer of a hotel in Cardiff while Hasselhoff was appearing in the city as a judge on Britain's Got Talent.
She asked for a photo and he asked for her number.
"There's the girl I imagined in my head that I want to spend my time with, my life with," he recalls after first seeing her.
Despite the near 30-year age gap - Hasselhoff, 62, is older than Hayley's father - and some scepticism from showbiz gossips, the couple have now been together for four years.
So I had to ask them, why do the programme at all and what about the results?
"I didn't really watch it because I can't watch myself, it makes me cringe," says Hayley, 33, speaking from Los Angeles.
"I'm going 'Oh my God, my make-up, my hair'. I watched David and fast-forwarded it through the bits with me in it."
As for Hasselhoff: "I watched every frame of it!
"It was a difficult decision [to make the programme]. In the beginning, we had been hounded by the press and her family had been really harassed to the point I was embarrassed, I was saying 'I just want to date your daughter.'
"I felt bad about even bringing the cameras to her house. Once we cleared it with her family, then we had her brother-in-law JP shoot it - and he wanted to shoot it - it was fun, like home movies."
And it is a classic culture clash. The tale of a woman from the valleys who helps bring some normal life to a celebrity.
The star of long-running 1980s series Knightrider had been impressed with the size of Hayley's family home in Glynneath before he realised he had been looking at the entire row of terrace houses.
Now Hayley's neighbours in LA are Stevie Wonder, Kim Kardashian and Justin Bieber.
The programme shows Hasselhoff spending Christmas Day with the Roberts clan, all in Christmas jumpers.
"It was a nice Christmas for me, " he recalls. "I was away from my family and it was a rough time, my father had passed away, so it was my first Christmas without my family and I was invited to come to her home.
"They'd got over the TV star stuff to a point and have kind of enjoyed getting to meet me as a person. We watched Notting Hill the other night and it was the same story!"
The programme deals with his fame and the line between David Hasselhoff the person and The Hoff, the celebrity.
He is feeling more at home in Wales and says the people of Glynneath are happy to wave and say hello without "hassling the Hoff".
But he is still recognised.
"The last time I was there I was without Hayley and I was stopped by the police and they stopped me - for a picture!
"I thought 'Oh no, the police', I thought maybe we were driving on the wrong side of the road. But it was "Hey Knightrider can we have a picture?'
"Then I parked the car and everyone saw David Hasselhoff with police and suddenly I was taking pictures with everyone."
She said although she still finds it strange "I'm used to it now - I just go along with it".
However, Hayley said she "hates" the tabloid sneers about the age difference.
"I hate all those pictures, the really bad ones. I hate papers and magazines printing things, it's really embarrassing for me, it's not who I am, I prefer to lead a normal life."
Hasselhoff said: "We can't go anywhere unless we're in disguise. I wear a hat and we keep moving.
"If you see us arguing it's usually a tactic to keep people away. We do a fake thing - we pretend to argue and people are afraid to approach us."
Of the attention and selfies, he admits: "If it wasn't there, I know in my heart I would miss it. It puts a smile on people's faces."
In the programme, Hayley is in the wings or helping him with his lines.
"She sits back and enjoys the ride," he said, "I'll be on stage and she's texting her parents. It's a job and she knows that and we cherish the times we're not on stage and just hanging out together.
"One of the best days we ever had was when I was in disguise and we were in Manchester at the Christmas Market and no-one recognised me as I had the stupid Rastafarian outfit on.
"I have gone as David Hasselhoff before because no-one would think I'd be stupid enough to go around as myself wearing a David Hasselhoff mask."
In the programme, he says the former Debenhams shop assistant's "love of life" and helping him keep healthy after well-publicised alcohol issues has been "one of the best things to happen to me."
She says: " I don't know what people think The Hoff is. I get confused, to me it's just David - a happy person and larger than life."
David - I will call him that so we are clear - said he had no choice about being The Hoff.
"It started in Sydney, Australia, when I was jogging in the park and they were driving down the road, honking their horns, going 'Hoff Hoff!
"It was like being attacked by zombies. It was kind of a shock.
"Now it's part of my life. We capitalise on that with #Don'tHassleTheHoff. It's nice, it's fun, it's positive.
"The Hoff has eclipsed David Hasselhoff at times but I look at The Hoff as a character."
As if to emphasise it even more, he has signed up for a comedy series Hoff The Record in which he plays an exaggerated version of himself in the vein of The Larry Sanders Show or more recently Friends star Matt LeBlanc in Episodes.
"I'm really proud of it, it has already been picked up for a second season possibly a third.
"It got a standing ovation at a BBC Worldwide convention in Liverpool and I got to do a big skit with John Cleese, my idol.
"It's a send up of David Hasselhoff but most of what happened in Hoff The Record has happened to me - except I wasn't married five times or had an illegitimate German son.
"People will see what it's like to be David Hasselhoff".
We may very well be seeing more of him or that Jamaican disguise, with the couple eyeing a home in Wales.
"We're trying to figure out where we live right now - we're between two houses. We're having a discussion about whether we live in Wales or LA.
"Right now we're living out of a suitcase and we will be for seven months from July from doing Hoff The Record and the musical, Last Night A DJ Saved My Life with music from the '80s.
"We're house-hunting all the time. I went to the Cotswolds and didn't want to leave it was like being in the musical Oliver!
"I haven't been to north Wales yet and we're hoping to go there in a couple of weeks when we have some time and see Snowdonia".
North Wales Police officers, get your cameras ready.
Hayley And The Hoff is on BBC One Wales on Monday 27 April at 21:00 BST.