Recorded crime in Wales rises by 4%, figures show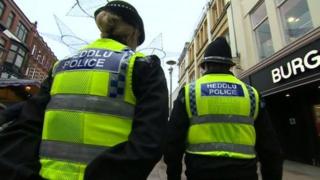 Recorded crime in Wales has risen by 4% over the past year, figures recorded by police forces show.
They show there were just over 180,000 crimes recorded in 2014, including 20 murders, 40,000 violent offences and 4,000 sexual offences.
The majority were in the South Wales Police force area, which includes Cardiff and Swansea, which saw a 7% rise in crime.
Gwent Police saw a 5% rise while Dyfed-Powys and North Wales were unchanged.
The Office for National Statistics (ONS), which published the figures, said improvements meant more crimes reported to police were being recorded.
Violent crime offences increased across all four forces from 2013 to 2014 and went up 22% across Wales as a whole.
Sex offences went up by 26% and public order offences rose by 12%.
However, drug offences dropped by 12% and thefts from a person fell by 17%.
Total number of police recorded crimes in Wales
Dyfed-Powys Police - 18,564
Gwent Police - 36,826
North Wales Police - 36,626
South Wales Police - 88,632
WALES 180,648
The ONS Crime Survey for England and Wales (CSEW), also published on Thursday, surveyed 35,000 households across England and Wales and asked people if they had been affected by crime.
This showed a 7% decrease compared to last year.
The ONS said the survey provided different figures to the ones recorded by police as not everyone who is a victim of crime officially reports it.