The Dragon computer's failed attempt for 80s domination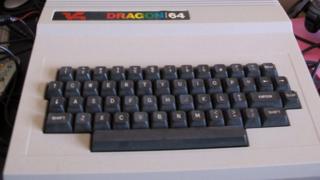 It should have heralded the dawn of Wales leading a home computer revolution. It could have turned Port Talbot into the UK's own answer to Silicon Valley's Apple and Microsoft. It could have been a contender.
But that was 1982 - when the Dragon 32 looked set to revolutionise the way we looked at computers.
It sold 40,000 units in the run-up to Christmas that year.
Pioneering features, including the very first programmes in the Welsh language, meant it was in a strong position to trump more illustrious rivals such as Sinclair and Commodore.
But just two years later Dragon Data, the creators of this all-in-one computing home wonder, was wound-up.
Now, 35 years after development started in Port Talbot, enthusiasts maintain it was far from a white elephant but a victim of its own phenomenal early success.
Unexplainable excitement
For IT consultant Ciaran Anscomb, the Dragon was the right computer, but at the wrong time and with the wrong management.
The product had been heralded as the saviour of troubled toy manufacturer and parent company Mettoy, and Mr Anscomb remembers the huge stir it caused.
He got his first Dragon computer for Christmas 1983 and said: "You can't really explain the excitement of it.
"There is no comparable modern toy or gadget today that is so different to what had gone before.
"In this one box was everything you needed to start on the brave new world of computing."
It had many innovative software options, including FarmFax, that allowed farmers to keep computerised records of livestock.
It also had a Motorola 6809 processor that was superior to those used by its rivals and features that made it much easier for beginners to get into programming.
However, Mr Anscomb said there were negatives - Dragon Data cut back on some areas like graphics and a sound chip to keep costs down.
This led to criticism, he said, with some users saying it felt "a bit cheap" compared with rivals Sinclair and Commodore.
Others blamed the Dragon's inability to produce text in lower case for its failure to break into the burgeoning schools market, leading to its ultimate demise.
But, Mr Anscomb believes Dragon Data's problems started with their phenomenal initial success.
After the huge sales of Christmas 1982, Mettoy struggled to cope and began selling stakes in the company, with the Welsh Development Agency among the investors.
When they moved to new Margam premises in March 1983, Dragon Data was the biggest firm in Wales in majority private ownership.
But the need to turn out Dragon 32s to fulfil contracts with Comet, Boots, Dixons and British Home Stores, slowed up production of the new 64KB version.
When the Dragon 64 was finally launched in 1984, vital software and add-ons were not ready.
In an attempt to placate impatient owners, Dragon Data offered to upgrade Dragon 32s to 64s for just £100, but this only served to stretch finances even further.
"For people who loved the Dragon, the delays were hugely frustrating, because it was such a good machine," said Mr Anscomb.
"In hindsight, Dragon got too big too quickly, and never had the financial clout to compete against either the big gaming machines or the IBM PC-style computers."
Mr Anscomb said a sad irony was that when the receivers were called in in June 1984, Dragon Data had two revolutionary products in the later stages of development.
Dragon's demise
"Projects Alpha and Beta could have saved Dragon, if only they'd been able to buy a bit more time," he said.
"A few were actually built, and they contained some of the biggest memories and fastest processors available in the 1980s.
"But more significantly they included built-in modems, foreseeing the need for connectivity which we now take for granted in the internet age."
After its demise, the Dragon designs were bought up by Spanish firm Eurohard, but by 1987 even the 64KB machine was showing its age, and they too went bust.
But 28 years after the last Dragon computer was produced, it continues to have a strong online following, with a good-condition example now worth around double its original £175 price tag.