Nepal earthquake: Hope for missing trio as guide makes contact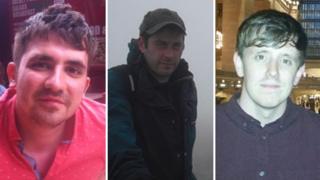 The families of two brothers and their friend reported missing in Nepal have been told their loved ones are alive.
Jason Russell, 28, from Ruabon, his brother Darren, 26, and Daniel Hughes, 36, were all officially missing following Saturday's earthquake.
The trekking company they travelled with said the men's guide had been in touch to say they were waiting for a helicopter to fly them to Kathmandu.
The Russell family said the news gave them a "slim glimmer of hope".
However they told BBC Wales they were treating the information very cautiously until they heard anything further.
'Relief'
Mr Hughes' sister Joanne said the trio had travelled to Nepal about a week ago to go trekking with the company Hard Rock Trek in a valley north of Kathmandu.
She had not spoken directly to her brother but told BBC Wales as they had all their kit with them including food she thought they would be fine while they waited for transport.
Ms Hughes added it had been difficult to get information but said it was "a great relief" to get the news that that the men were ok.
The men remain officially listed as missing on the Red Cross list.
However expat Huw Alexander Lashmar, who had been reported missing along with his son Jamie, has been accounted for and is waiting to fly out of Nepal.
Jamie Lashmar, 32, posted a picture of his father on his Facebook page at Kathmandu airport late on Sunday local time, saying they were expecting to have a two-day wait for a flight home.
The family of Maurice Hanley from Swansea, who is also listed as missing in Nepal, say he has managed to get a message through that he is safe.
Mr Hanley, 54, and originally from Pontyates, Carmarthenshire had been trekking from Kathmandu to Pokhara.
Rescue team
Seven members of the fire and rescue services in Wales have gone out to Nepal to help with the recovery effort.
Mike Hopkins, a climber from Cardiff who was hoping to be the oldest Welsh person to reach Mount Everest's summit, survived while 23,000ft up the mountain.
He was on the north face of the mountain, which was less affected than the camp on the other side.
In his party was Carmarthenshire climber Iestyn Richards-Rees, who like Mr Hopkins hoped to set an age-related record for climbing Everest but this time by becoming the youngest Welsh person to climb the North Col route.
Mr Richards-Rees, 28, from Llangyndeyrn, managed to post a blog the day after the earthquake.
He said: "We were having lunch when the ground started to shake followed by a very large thunder noise.
"We thought it was an avalanche to start but the earthquake did trigger an avalanche which caught a few Chinese climbers but they didn't have significant injuries.
"Just seeing rock and ice falling around you leaves you in a hopeless state. There is literally nothing you can do if it comes at you and we were very lucky to be far away from the chaos."
The National Emergency Operation Centre said at least 3,617 people were known to have died and more than 6,500 had been injured.