Queen presents new colours to Welsh Guards in ceremony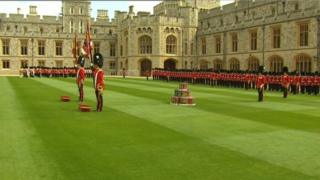 The Queen has presented new colours to the Welsh Guards as the regiment celebrates its centenary year.
More than 300 troops were honoured by the monarch and the Prince of Wales, who is regimental colonel of the unit, during a ceremony at Windsor Castle.
The Queen praised the regiment's "indomitable family spirit" which she called their "hallmark".
It is the eighth time the 1st Battalion has received new colours, which are the regimental flags of the British Army.