Nepal earthquake: Welsh trio rescued by helicopter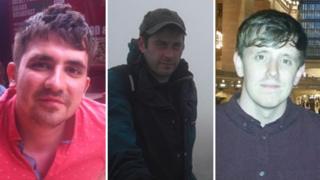 Three trekkers from Wrexham who had been stranded in Nepal have been rescued by helicopter, one of their sisters has told the BBC.
Jason Russell, 28, his brother Darren, 26, and Daniel Hughes, 36, were officially missing following Saturday's earthquake.
Mr Hughes' sister Joanne said that all three men were now safe.
She said they had been taken to a military base in Kathmandu and were waiting for a flight home.
A rescue attempt on Wednesday was unsuccessful after a helicopter failed to find their exact location.