Welsh donations for earthquake-hit Nepal nears £900k mark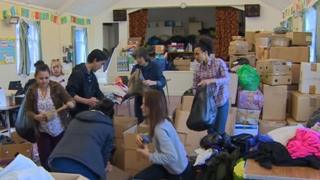 Nearly £900,000 has been donated by people from Wales towards relief work in earthquake-hit Nepal.
Thousands of people have contributed, with the money set to be used to help the estimated four million Nepalese people in urgent need of clean water.
The £870,000 will be used by the Disaster Emergency Committee Nepal Earthquake Appeal.
Donations were also collected in Brecon, home to the Ghurkha Wing (Mandalay) company.