New foal for woman who bred Dream Alliance on allotment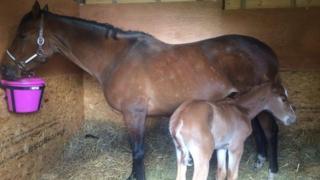 The owners of a winning race horse raised on a Gwent Valleys allotment have a new foal - and think it could be a future Derby winner.
Dream Alliance won the 2009 Welsh Grand National - with the story turned into an award winning film.
Now owners Jan and Brian Vokes say a new foal, a colt, was born on Saturday in Cefn Fforest, Blackwood.
He has been given a temporary stable name of Rodney - after the long-legged Only Fools and Horses character.
Mrs Vokes shot to fame in the racing world after her first horse Dream Alliance defied the odds to come second in the Hennessy Gold Cup and win the Welsh National.
She had no experience of horse breeding and created a syndicate of friends and drinkers from the local working men's club who paid £10 a week for the horse to be trained.
Dream Alliance is now living out his retirement in Somerset.
Mrs Vokes, who will look after Rodney in between her two cleaning jobs, told BBC Radio Wales: "The foal comes with a great pedigree; his father won the German Derby.
"We'll keep him on the allotment for the first 18 months and then we'll get him assessed and hopefully then he'll go to be trained by Philip Hobbs. He trained Dream and we'd love him to go to him in Somerset."
"We've got a new syndicate together. It will be £15 a week and we've got a waiting list for people who want to join."
The inspirational story of Dream Alliance was released on the big screen last month, after winning the audience choice for World Cinema Documentary at the prestigious Sundance Film Festival in the United States.
It had its UK premier last month in Caerphilly county town of Blackwood.