ITV Cymru Wales staff stage 24-hour strike in pay dispute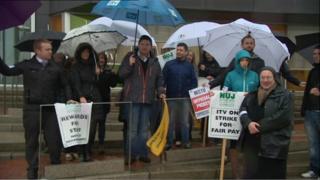 About 30 ITV Cymru Wales staff are staging a 24-hour strike as part of a company-wide dispute over pay.
The striking staff are members of the technicians' union Bectu and the National Union of Journalists (NUJ) who are protesting against a 2% pay award.
Unions want a bigger wage increase in view of the TV company's £605m pre-tax profits in 2014 - up 39%.
An ITV spokesman said they did not anticipate the strike would cause any disruption to Thursday's schedule.
The spokesman added: "We are fully prepared to maintain an open dialogue with union representatives following the ballot result, which has seen 232 union members voting to strike out of a UK workforce of 3,000 employees.
"We have made an above inflation one year pay increase of 2%, effective from January 1, which is on top of the 11.5% of pay rises over the last four years, some way ahead of other media sector pay awards."
Bectu general secretary Gerry Morrissey said: "There is a huge disparity between the pay offered to staff and the bonus package to executives as well as shareholder dividends."