Row sparked over Dyfed-Powys police helicopter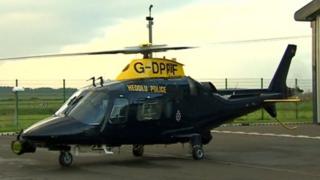 A row has broken out over the loss of a police helicopter base with claims there was not "one shred of opposition" to losing the service.
The site in Pembrey, Carmarthenshire, shuts on 1 January 2016 due to cuts by the National Police Air Service (NPAS).
Plaid Cymru has accused Dyfed-Powys police and crime commissioner (PCC) Christopher Salmon of not doing enough to save it.
But Mr Salmon said he was "fighting for the best possible police air service".
Following the decision in February to cut the number of bases across England and Wales to 15, Mr Salmon said it was "deeply disappointing".
But a Freedom of Information request was submitted by Plaid MP Jonathan Edwards and AM Rhodri Glyn Thomas requesting to see the minutes of the NPAS meeting in February.
They say the minutes reveal the PCC was "reluctant to oppose" the new NPAS model, which will see the dedicated Dyfed-Powys helicopter removed from operation.
'Huge fanfare'
Mr Thomas, the Carmarthen East and Dinefwr AM, said: "Given his recent public statements it is almost inconceivable that the police commissioner was reluctant to oppose the loss of our dedicated police helicopter.
"Just six months ago the commissioner announced to huge fanfare that he had reached an agreement to secure the helicopter's future.
"Three months later, however, he sat in a meeting having been confronted with a change in that agreement and yet the minutes suggest he didn't put up one shred of opposition to losing the service that serves the people he is meant to represent."
Mr Salmon said he was "fighting for the best possible police air service for the people of Dyfed-Powys".
He said: "The chief constable and I continue to discuss - with NPAS - the needs of our communities.
"I won't sign up for any service that doesn't meet the needs of our region or match what we're paying for."
Mr Thomas has called on Mr Salmon to clarify his position on the future of the helicopter.