Renowned landscape artist Gwilym Prichard dies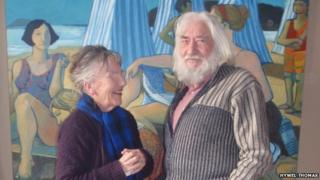 One of the most admired and successful painters of the Welsh landscape, Gwilym Prichard, has died.
Born in Gwynedd in 1931, Mr Prichard painted and taught on Anglesey before moving to France, then Pembrokeshire.
Following the death of Sir Kyffin Williams in 2006, he was considered by many as the senior figure in Welsh landscape painting.
Mr Prichard died on Sunday at the home he shared with wife and fellow artist Claudia Williams near Tenby.
He was noted for using a colourful palette and applying thick paint in his works of the Welsh landscape.
His paintings depicted areas of Wales such as Anglesey, Gwynedd and Pembrokeshire, as well as Brittany, France, where he lived for many years and regularly exhibited.