'GI baby' reunited with American family after 70 years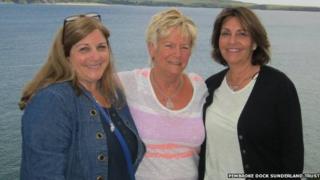 A wartime "GI baby" from Pembrokeshire has found her long-lost family in America, 70 years on.
Tina Jones from Haverfordwest met up two of her three sisters after a two-year hunt with historian Gareth Mills.
Ms Jones' mother, Rosa, met American-Italian GI Ignazio Parrino when his unit was stationed in Tenby ahead of the D-Day landings.
He was already badly injured, at the Battle of the Bulge, by the time she was born in February 1945.
He won the Purple Heart medal for gallantry for his actions during the battle.
Mr Mills said it was the last the two halves of the family had heard of each other, until Ms Jones got in touch with him on a local radio phone-in.
"The Pembroke Dock Sunderland Trust asked me to put together a book on the US forces based here, and so I went on the radio to appeal for information," he said.
"Tina contacted me with little more than a name really, but it was enough to get us started.
"Unfortunately the trail went cold for me in The Bronx around 1975, but BBC Wales' genealogist Cat Whiteaway and the New York Italian-American society came up trumps."
Letters burned
Ms Jones was born Ernestine Roberts, and had been told by an aunt that she'd been named after her father.
This had confused Ms Jones, because she knew her father's name was Ignazio.
But Mr Mills found a 1930 US census entry which stated that Ignazio Parrino went by the name Ernie.
Ms Jones said it was the piece of the jigsaw which finally made sense.
"I knew very little about my father, even less than most GI babies," she said.
"My step-father was a very jealous man, and made my mother burn all her letters and photos.
"In fact he made my mother change my name to Monique Hatfield when they married, and it wasn't until my early teens that I found out about my real father.
"Ever since then I'd wondered about who he was, and about the name thing, so when it all started falling into place I was delighted."
'So much in common'
After Mr Mills hit a dead end, Ms Jones almost gave up hope of learning more, until she received a surprise phone call inviting her onto BBC Radio Two's Jeremy Vine show.
"All they told me was that they were doing an item on GI babies, and would I come on to tell my story. Well after I'd finished explaining it all, Jeremy dropped his bombshell.
"Cat Whiteaway had found my three half-sisters, and they were listening on the other end of the phone."
Ms Jones' three sisters - Janet, Diane and Trish - had also had no idea that they had a sibling on the other side of the world.
After sustaining his injury, Ms Jones' father had refused to talk about his life during the war.
He married within months of leaving Ms Jones' mother, and his wife revealed to her daughters that she had known of Ms Jones' existence ever since he had proposed.
"At first the girls were worried about having too much to do with me because their mother was still alive, so once we found out that she'd known all the way along it was such a huge relief," Ms Jones said.
"After that we emailed and spoke on the phone constantly, and I didn't think anything could top the moment I first saw a picture of my father, until two of my three sisters said they were coming over to Britain.
"We had so much in common, even down to our tastes and mannerisms, and I can't believe how much my grandson looks like my father.
"I've had a wonderful life, and would have died happy even if I'd never have found them, so to suddenly learn you have three sisters you never knew you had is the biggest bonus anyone could ever wish for."
Ms Jones' said she is now saving to travel to America to meet her third sister Trish and hopes to make the journey next summer.